Instagram announces Comment Warning feature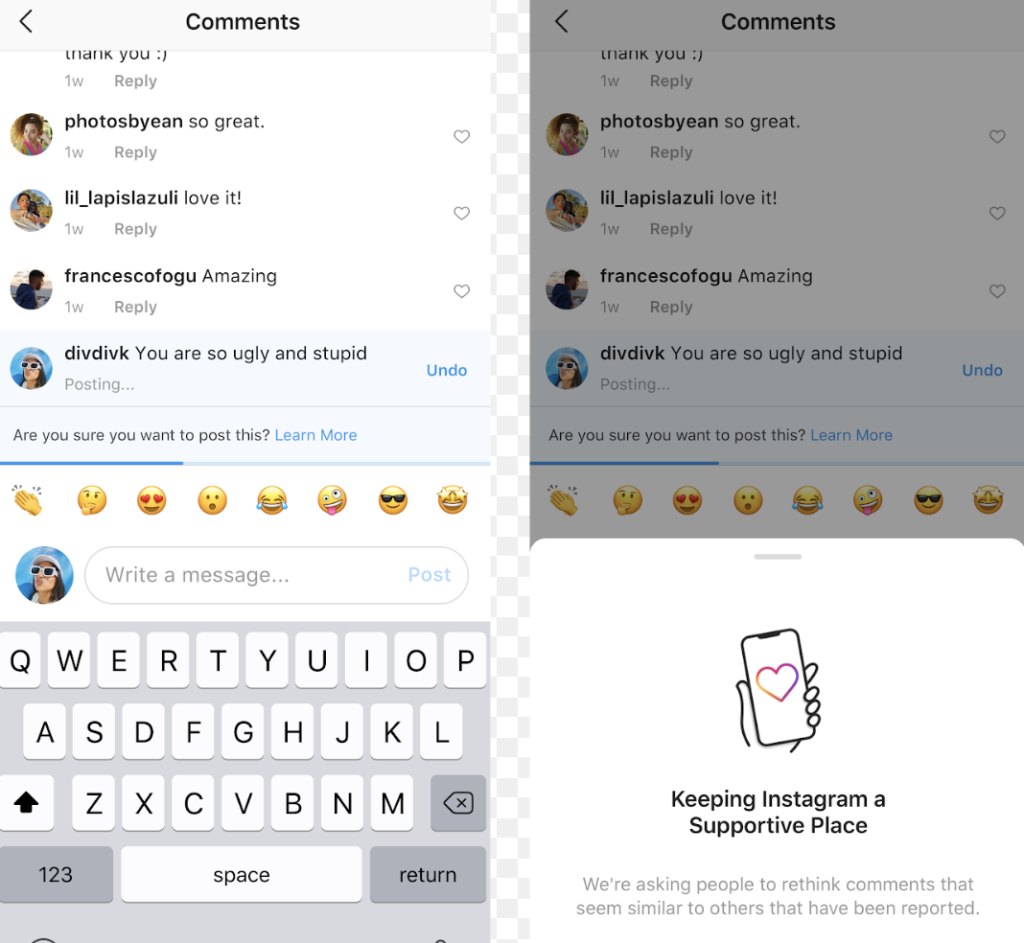 NEW INSTA FEATURE
While most of us would have seen the number of likes disappear from our Instagram feed in the last couple of weeks,  Instagram also dropped a new 'Comment Warning' feature using AI designed to detect offensive comments being typed by users.
After the AI recognises the offensive or 'borderline' content, a warning will pop up prompting the user to reconsider their comment BEFORE they can post it.  The AI uses comments reported to the platform by other users to create alerts for comments that are similar to those that breach their community standards.
Instagram is on a mission to reduce the amount of bullying and hate on its platform. They found that early tests of the comment warning feature encouraged 'some' people to reflect on their choice of words and to then comment something less hurtful.
Obviously 'some' isn't everybody, but it's a start.
The head of Instagram, Adam Mosseri, who took on his role last September said he wanted his reign to be a new era of anti-bullying and that he wanted to lead the fight in the social media industry.
While this is a step in the right direction there is some concern.
Instagram is attempting to use artificial intelligence to spot complex human behaviour, such as FOMO, and trying to mediate people's feelings of exclusion and low self-worth.
The problem is, for many people, Instagram is a perfectly curated version of reality where everybody puts their best foot forward. It is a platform where bragging and making others feel jealous is the norm and that is arguably what is doing the most harm.
While the comment warning feature may stop very direct verbal attacks, it won't stop a boy tagging his ex in a picture of him and someone else, or someone seeing a photo of all their friends at a party that they obviously weren't invited to.
A quote from a Vox article states that 'teenagers are very, very good at making each other feel bad, and a platform that is fundamentally about boasting is a catalyst for that, no matter what'.  How can we change that?
If this feature even stops one person from commenting something negative on another person's post then I believe it is worth it.
But I'm uncertain that it will fix all of Instagrams bullying issues.  Combined with the trail removing likes from public view and the upcoming option to restrict people from seeing your content, is it enough?  What else needs to be done?
What do you think? Will this new feature get people to reconsider their harmful comments?
Hermione, 21, Victoria University.