Why we think Professor Jane Burns is AWESOME!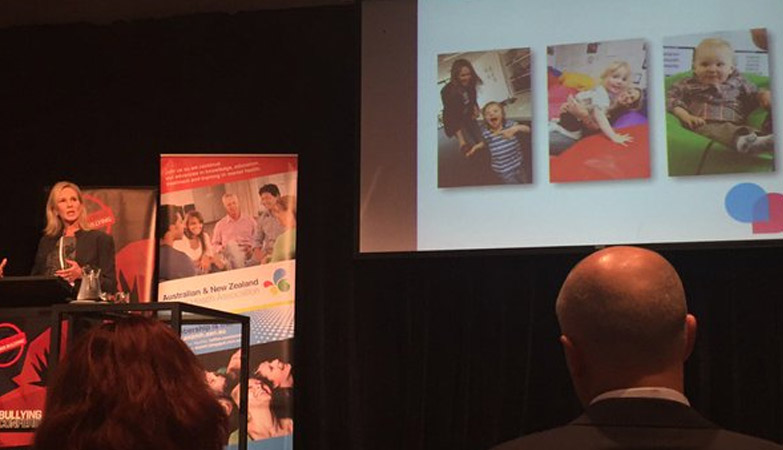 An absolute highlight for us this morning here at the No 2 Bullying Conference was having the chance to listen to Professor Jane Burns from the Young and Well Research Centre (one of the many hats she wears) and then getting a chance to meet and speak with her during morning tea time!
Young and Well CRC is an organisation that unites young people with researchers, practitioners and innovators to explore the role of technology in improving mental health and wellbeing for young people aged 12 to 25.  It has more than 75 partner organisations and its research is highly regarded.
Jane spoke of the power data has to shape practice and after 20 years working within the space, she knows the impact it can have on not only education but policy and decision making in a range of organisations and settings.
The 1997 study, 'Social Environments and the Emotional Wellbeing of Young People'
Social environments are import to the social development of young people
That you have a place is critical
That really got us thinking.  For many of our young people that struggle to find their 'place' in their day to day interactions with others, life online can present an escape.  When this is balanced with face to face or in person social experiences and activity, our young people can develop a range of friendships and interest groups that support their development and understanding.  However, when their online interactions dominate their social interactions, this can impact not only potential friendships or relationships offline but can also make life offline seem much less positive and welcoming.  For many of our young people, this leaves them wondering, where do I fit?  Who cares about me?  Do I matter?  Who really 'gets' me?
Jane confirms this by saying 'young people meaningfully participating with a connection to their school and community, they do not take part in bullying'.
What we found REALLY FANTASTIC was the emphasis and importance jane and her organisation place on             Co-Creation of resources and activities or events.
This is something we passionately believe in.  REAL involvement of young people right from the start adds value, equips our young people with skills and empowers them to make a difference
It allows them to learning experientially and when asked if this changes behaviour, Jane is definite
YES IT DOES
We cannot wait to get our hands on more of the YWRC research and to continue to learn from them in the future!
What an amazing champion to have for authentic youth involvement- Jane, we think you are INCREDIBLE!!!!