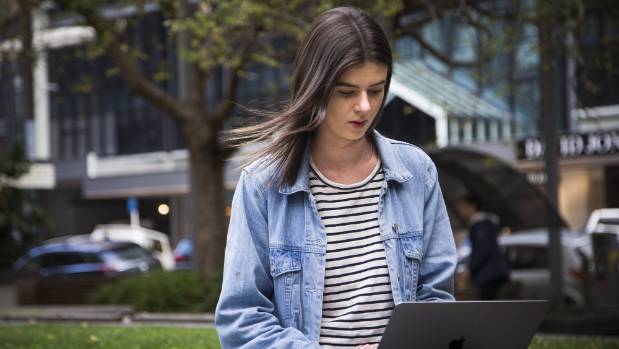 In 2016, the Vodafone Foundation launched it's Technology Grant Pipeline approach.
The Vodafone New Zealand Foundation Technology Development funding is designed to support the development, implementation or growth of technology-focused solutions to youth development issues in Aotearoa. 
Vodafone are looking for ambitious, innovative projects that must have clearly intended goals to enable vulnerable young people to live lives they value. A long-term focus and the potential to expand is essential. 
One of our High School advocates (Keryn) had an idea for using technology to connect young people to practical, jargon and judgment free information about harm online.  With this idea in mind, together we applied for the inaugural development grant.  This involved an application form and then a pitch to members of the Vodafone Foundation Board.  We were thrilled to be chosen as one of the first recipients.
Click HERE to hear about the announcement
This is what we proposed:
When we as young people feel isolated, vulnerable, hurt, victimised or afraid we're expected to understand the complicated processes of referrals, legislation, confidentiality and cost and to be able to select from a wide range of services that we don't fully understand. We're expected to have the confidence to set up and attend appointments without knowing what that will involve.
Data we gathered late last year from almost 1400 11-18 year olds told us that 48% of those who were bullied or harassed online or in person did not tell anyone about it or seek any support, they ignored it and hoped it would go away.  While a lot of our young people can talk to their friends or their parents or other family members when things go wrong, if it involves actions they now regret, it can be hard to own up to these.
The short and long term impacts of keeping things to yourself and not getting any support are pretty full on. It can lead to things from feeling down, feeling like you're worthless and don't matter, to increased anxiety or depression or other poor mental health outcomes.  When we feel worthless and there is no one else to regulate our negative self talk, risk taking, fear, shame or hurt, how do we move forward?
Well that's where we hope technology can help us to support our vulnerable young people to have an alternative.
We propose a personalised, intuitive web based tool that provides a range of support options for young people based on their responses to questions about what they are going through and how that is making them feel.  As well as linking to a wide range of services and providing detail about how they work, how you get in contact with them and who else needs to be involved we will also provide practical tips and ideas they can put into action themselves.
Over four months, we worked with a team of incredible young people from across the country to prototype what would become ICON (In Case of online Negativity).
In February, we gave a second pitch to Vodafone be considered for funding to take our prototype and develop it further (alongside the other two recipients of the Development grant).  Unfortunately, we were unsuccessful but feel hugely optimistic about using our prototype to secure alternative funding and provide young Kiwis with a free, easy and comfortable way of getting help.  Watch this space!
EDIT: We secured funding from the Netsafe Partnership Fund to develop our prototype!  WOHOO!!!
27 February 2017 | Stories, Resources | ICON, Keryn, Technology, partnerships, Vodafone Foundation