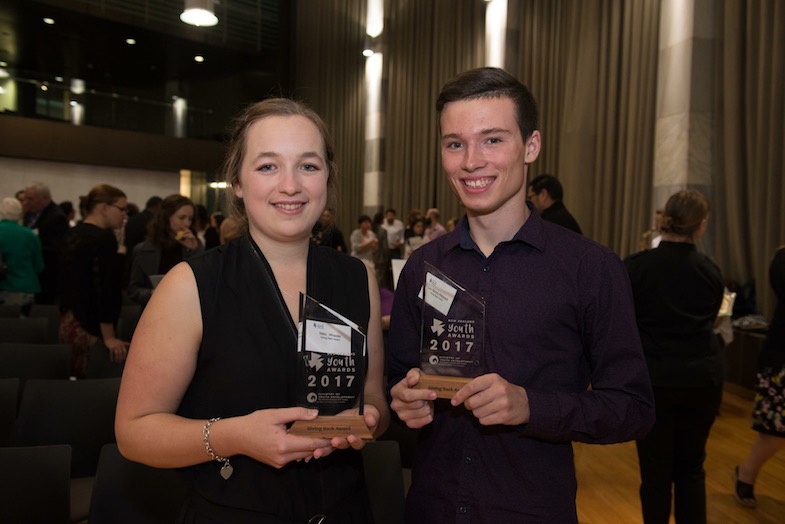 We were thrilled to be back at the NZ Youth Awards this year  to recognise two more of our incredible young people.
These Awards recognise and celebrate young New Zealanders who have achieved outstanding results, as well as those who have made a significant contribution towards supporting young people in their communities.
The Award categories celebrate qualities such as leadership, innovation, giving back, being a change maker, and young people who have supported youth activities in areas such as the arts, culture, sport and the environment.
Nikki Wheeler and Leo Munro-Heward were recognised with Giving Back Awards.  These awards are given to a young person whose actions address a current need and have had a significant impact on their community.
Now 19, Nikki was recognised for her long term commitment to Sticks 'n Stones since 2013.
Nikki was one of the founding members of Sticks 'n Stones in 2013 and has been actively involved in all elements of its growth and development since then. Intensely hard working, Nikki is the Secretary on the Sticks 'n Stones Board and mentors and supports younger students. Nikki's positive contribution is her willingness to get stuck in and make things happen. Her position as a role model is one she takes very seriously and she has inspired many younger students to volunteer their time, to continue the work she started.
Leo a year 12 student at Mount Aspiring College was recognised for his commitment to creating positive change.
Passionate about inclusion, acceptance and diversity, Leo is a champion for the freedom of all young people to be able to be themselves without fear, harassment, prejudice or bullying. He is driven by his own story of the bullying he has endured and his challenges with dyslexia and dysgraphia. His focus for 2017 is setting up a Queer Straight Alliance and other support as his goal is to encourage a positive, welcoming and supportive environment for Wanaka youth that celebrates diversity.
Click HERE to read more about Nikki and the Awards on Stuff.
Click HERE to read about Leo as featured in the Wanaka Sun.