#Girltakeover at Facebook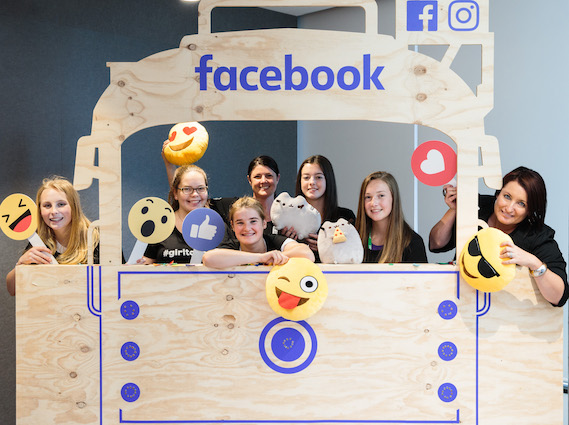 For Safer Internet Day this year (February 7th) we were excited to again partner with Facebook Australia/NZ and Project ROCKIT, this time alongside Plan International Australia to run a #girltakeover at Facebook's Melbourne offices.
Our focus was on instant content and how we could collaborate with local students to create expectations of mutual respect, safety and privacy between the person sending and the person receiving the content.
52 students from around Melbourne including 5 from New Zealand, joined us to talk about why young people love using deletable media, what the norms were surrounding it, what we wished adults understood about social media and what some of the online safety messages should be around this type of sharing.
Key takeaways
The key takeaways from the workshop were:
Young people love deletable media is because it isn't all about likes, it doesn't have to be perfect and you worry less about over-posting.
The students present were very conscious that the deletable nature of it didn't mean that there were no risks.
It was clear that the young people involved in our workshop still felt that adults didn't really understand social media nor why young people loved it.
The consistent feedback was that currently online safety messages are negative, over used, based on cliches and do not relate to most young people.
During the workshop, new messages were created that we will promote moving forward.
What young people wished adults understood
It was clear that the young people involved in our workshop still felt that adults didn't really understand social media nor why young people loved it so.
These were the key takeaways for adults:
Important to give young people a clearer / quicker understanding of privacy settings and Community Standards on FB
We want to give parents positive images of the online world to show what most young people are really doing online
Important to give adults a better understanding of how social media can be creative, expressive and connect people (encourage them to get on it!)
Open-minded before anger / judgement
Positive education about how to use social media for adults too!
Looking for inter-generational links to show that technology has changed but teen social pressures aren't new!
Everyone is responsible for keeping 'girls' safe, not just girls (no more victim-blaming)
Suggested new online safety messages
The students workshopped some new ideas for safety messages that they believed would resonate better with young people:
Be your own person- Sometimes it's okay to hang with the crowd (Just know where you stand),
Don't listen to the haters,
Be aware of what you're comfortable with (and what you're not),
Know who your friends are, Easier said than done (it's hard to stop caring what other people think),
Be there for your friends when they get knocked down (give support),
Be strong and have confidence in yourself,
The word 'don't' sucks, it's negative and unsupportive, so Don't make decisions for others
Help others to be themselves and 'get them'.  If they can do it, you can too, know who your friends are
We had a live illustrator capturing the insights. He is also developing images to accompany the safety campaign that we will be promoting in both Australia & New Zealand in the coming months.